Blog Home
Celebrate National Sandwich Day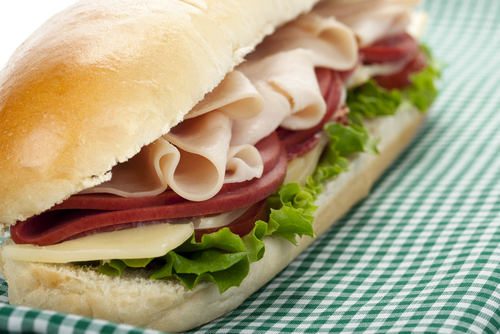 This month, the Ridge45 Apartments Blog is bringing residents of our apartment community ways to celebrate National Sandwich Day. Check out local sandwiches shops in the Traverse City area like Centre Street Cafe, Subway, Kramer's Bread & Butter, and Big Apple Bagels. Read on to learn more about them in today's blog post.
National Sandwich Day
Friday, November 3, was National Sandwich Day and we thought it'd be fun to keep celebrating it. Read more to learn about a few of our favorite sandwich joints nearby our apartment community in Traverse City, MI.
"We have some great ideas to share. We serve a variety of sandwiches, made-from-scratch soups, salads with organic greens, and pastas with house-made dressings. Check our daily specials for entrees made with fresh local ingredients!"
Centre Street Cafe is about 8 minutes from Ridge45 Apartments.
"Today, the SUBWAY® brand is the world's largest submarine sandwich chain with more than 44,000 locations around the world. We've become the leading choice for people seeking quick, nutritious meals that the whole family can enjoy. From the beginning, Fred has had a clear vision for the future of the SUBWAY® brand. As we continue to grow, we are guided by his passion for delighting customers by serving fresh, delicious, made-to-order sandwiches."
Subway is about a 5-minute drive from Ridge45 Apartments.
"We serve rich, fragrant coffee from Roaster Jack Coffee Co., where the beans are roasted by hand every day. And we source our delicious sandwich breads from Potter's Bakery, offering Italian and Cracked Wheat, as well as our Signature Bacon Bread, created specifically for our cafe."
Kramer's Bread & Butter is about 7 minutes from Ridge45 Apartments.
"We have so much more in store than just our fabulous fresh bagels, muffins, and cream cheese. Our restaurants offer a comfortable atmosphere in which you can order to-go or linger in our dining area with our wide assortment of breakfast and lunch items, treats, and beverages."
Big Apple Bagels is about a 4-minute drive from Ridge45 Apartments.
We hope you enjoy checking out these sandwich places in Traverse City, MI. Join us as we turn National Sandwich Day into National Sandwich Month! Thanks for reading today's post.