Blog Home
DIY One-Year Journal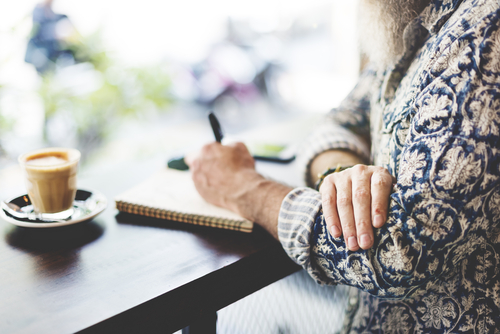 We love the idea of journaling your memories and stories. It may be hard, however, to write things down every single day. A micro journal is a great alternative. It's a small sampling of what is going on in your life — maybe a few lines or bullet points each month. The best part is it's small enough to go back through next year so you can see how much you've grown and improved.
There are a ton of ways to "micro-journal." We liked this idea from Suite Revival. She says "I started with a bunch of index cards, a paper cutter, a date stamp, and ink pad. I cut the index cards in half with the paper cutter - I can't recall the exact measurement but I used the large index cards. Then I stamped the upper left corner of each index card with Jan 1 - Dec 31. This was the most time consuming part but I did it while watching TV and got into a little groove so it wasn't so bad! I also cut some card stock to use as the monthly dividers and stamped those with the months."
The idea is to basically leave room on each card so next year on that specific date you can add what you did. That way in several years, you have a brief synopsis of 3 or 4 different days on the same date card!
You can also try this book called 52 Lists. It's kind of the same concept, but it works with lists: "Create 52 lists, one for every week of the year, that will help you discover the beauty, joy, creativity, and power you already have! The 52 Lists Project is a gorgeous journal for list lovers, based on the popular blog series by Moorea Seal. This beautiful undated journal of weekly lists will help nurture self-expression and self-development. Each seasonal section includes list prompts, with plenty of space to write your own lists, and challenges to help you take action and make your dreams a reality. With perfectly timed prompts that meet you where you are throughout the different seasons, this journal will open up new avenues of self-knowledge and help you celebrate, enjoy, and take ownership of your life, as each week of the year becomes more thoughtful and vibrant."
You can even create your own list of writing prompts for yourself with a Word document or a small notebook! Be creative. It's all about the things you want to remember and will want to read over and over again. Happy journaling! Thanks for reading.