Blog Home
Happy Halloween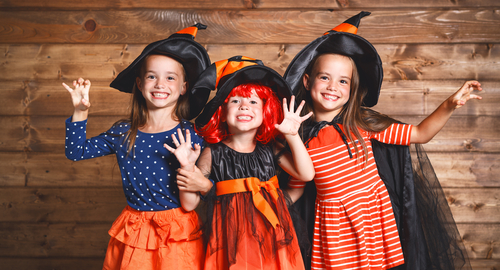 Autumn has arrived here in Traverse City, MI, and that means it's time to start thinking about and preparing for Halloween! Today the Ridge45 Apartments has ideas and tips for getting ready to celebrate the holiday from party ideas to DIY costumes, to movies to watch, to books to read, to treats to prepare. So whether you want to throw a Harry Potter themed party at your apartment, or take the most amazing Halloween treat to a party, we've got you covered.
Halloween Party Ideas
Doing a quick online search will garner a plethora of ideas for Halloween parties, so we'll leave that to you, but to get your imagination going, how about some of these ideas. Have a Harry Potter-themed party, or start earlier in the day and have a brunch featuring some of these dishes straight from Hogwarts via the Kitchn blog. Host a DC/Marvel party, invite guests to come as their favorite character and decorate with a cityscape theme. Go old fashioned with a harvest themed party complete with bobbing for apples and guessing how much candy corn is in the jar; add a "spook alley" just for fun.
Pumpkin Carving & Decorating
For your carving pumpkins, Modern Farmer advises that you choose pumpkins that are far from decay. The sturdiness of stems and the gourd will tell you just how "fresh" your pumpkin is. Modern Farmer also gives this invaluable tip: buy separate pumpkins for your pies and for carving. You could eat a carving pumpkin; it just wouldn't taste very good.
As far as pumpkin decorating goes, there's a whole world of possibilities. Decorate your pumpkin like your favorite cartoon character, paint a design on it, or add flowers to it to form a fun centerpiece. You can find more decorating ideas here, here, and here. For more inspiration, Country Living has 77 Cool Pumpkin Decorations, check out these beauties.
DIY Costumes
From Real Simple — Go as a "self portrait" How to do it: "Use a frame that's large enough to showcase you, the painting, from the bust up. For a classical look, tie your hair back into a low ponytail or bun and wear ruffles or a cameo around your neck. Sign your name on a mailing label or plain white sticker and adhere to the top left corner of your shirt, so it peeks out from the bottom of the frame and looks like the artist's "signature."
Gina Michele brings us DIY Lace Halloween Bunny Ears. Pair them with a little black dress, tights, and a pin-on tail for an updated take on fake dollar store bunny ears.
For a couple — black-and-white striped shirts paired with black pants equals the beginning of a couple of bandits. We turned to Say Yes for details of how to pull it off.
Check out 31 more DIY Halloween costume ideas from Good Housekeeping by clicking on the link if one of these don't work out for you.
Movies to Watch
Hocus Pocus (1993)
After three centuries, three witch sisters are resurrected in Salem, Massachusetts on Halloween night, and it is up to two teenagers, a young girl and an immortal cat to put an end to the witches' reign of terror once and for all. Directed by Kenny Ortega; Stars Bette Midler, Sarah Jessica Parker, Kathy Najimy.
Beetlejuice (1988)
A couple of recently deceased ghosts contract the services of a "bio-exorcist" in order to remove the obnoxious new owners of their house. Directed by Tim Burton; Stars: Alec Baldwin, Geena Davis, Michael Keaton, and Annie McEnroe
The Addams Family (1991)
Con artists plan to fleece the eccentric family using an accomplice who claims to be their long lost Uncle Fester. Directed by Barry Sonnenfeld; Stars Angelica Huston, Raul Julia, Christopher Lloyd.
Books & Stories to Read
Frankenstein by Mary Shelley
Learn about Dr. Frankenstein and his monstrous creation first-hand by going back to the roots of this classic story. Consider your own answers to the questions the scientist is obsessed with concerning nature, the origin of life, and our roles in meddling in those things.
The Fall of the House of Usher and Other Tales by Edgar Allan Poe
The eerie tales of Edgar Allan Poe remain among the most brilliant and influential works in American literature. Some of the celebrated tales contained in this unique volume include: the world's first two detective stories -- "The Murders in the Rue Morgue" and "The Purloined Letter"; and three stories sure to make a reader's hair stand on end -- "The Cask of Amontillado", "The Tell-Tale Heart", and "The Masque of the Red Death".
Tasty Halloween Treats
Pumpkin Pie Cupcakes from Cincy Shopper
This recipe is pretty much what it says it is. Pumpkin pie cupcakes are just pumpkin pie in cupcake form. We know it doesn't sound very exciting, but it tastes great, and you don't have to worry about accidentally leaving most of the crust behind as you cut your piece.
Pumpkin Pie Cream Puffs from A Farmgirl's Dabbles
For a light dessert at your next dinner party, try making these pumpkin pie cream puffs. These cream puffs are bite-sized and a great finish to any meal. These pumpkin cream puffs are filled with maple whipped cream and pumpkin pie filling — an amazing burst of fall flavor.
Halloween Safety Tips
This safety advice is great information about how to stay safe during the holiday.
— Only visit people you know in familiar areas.
—Carry a flashlight to see and be seen. Use reflective tape on costumes, bags, and sacks.
—Stay on the sidewalk at all times and cross streets at crosswalks and intersections. Do not cut across yards. Lawn ornaments and clotheslines can become 'hidden hazards' in the dark.
Thanks for reading today's post, and Happy Halloween to everyone in our apartment community. We hope you have a great month here at Ridge45 Apartments!