Blog Home
Try A Winter Sport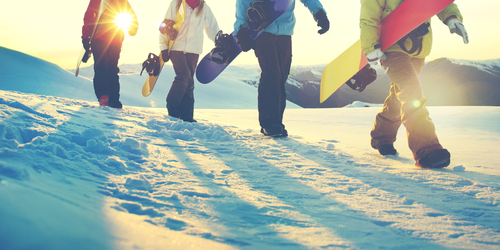 Even in cold climates, there are a ton of outdoor activities to take part in. Winter might seem like the perfect time to stay cozied up indoors, but for those who want to get outside, try one of these sports. We've compiled a list of winter sports to try:
Snowshoeing— From Snowshoemag.com comes this guide for first timers. The site says, "There is no better way to begin snowshoeing than just going and doing it. Take a risk, rent or buy a pair of snowshoes, dress for the elements and enjoy." Once you've tried it a few times and you're ready to invest in your own gear, try these snowshoes from REI.com.
Snowmobiling — For those in need of a little speed, this is a great activity. It is perfect for all ages since it is pretty low impact. Be sure to dress for the elements. This gaiter from Smart Wool is sure to keep your neck warm as you cruise through the trails.
Running — This is certainly a sport you can partake in all year long! As with all outdoor activities, gear is key. Make sure you're keeping your body warm while running outdoors. This ½ zip from Lululemon can help keep you warm but isn't too bulky to slow you down.
Snowboarding/Skiing — This is a classic winter sport! If you're a beginner, lots of ski hills offer classes. Be sure to train with a certified instructor to avoid injury. Wear safety gear like a helmet and make sure all your gear fits well, including boots and bindings. You don't have to spend a ton of money, and you can certainly rent or borrow gear to save money at first. Once you're ready to invest in your own gear, look for high-quality items that will last and perform for you.
Enjoy your time outdoors and don't be afraid to try something new! Thanks for reading.